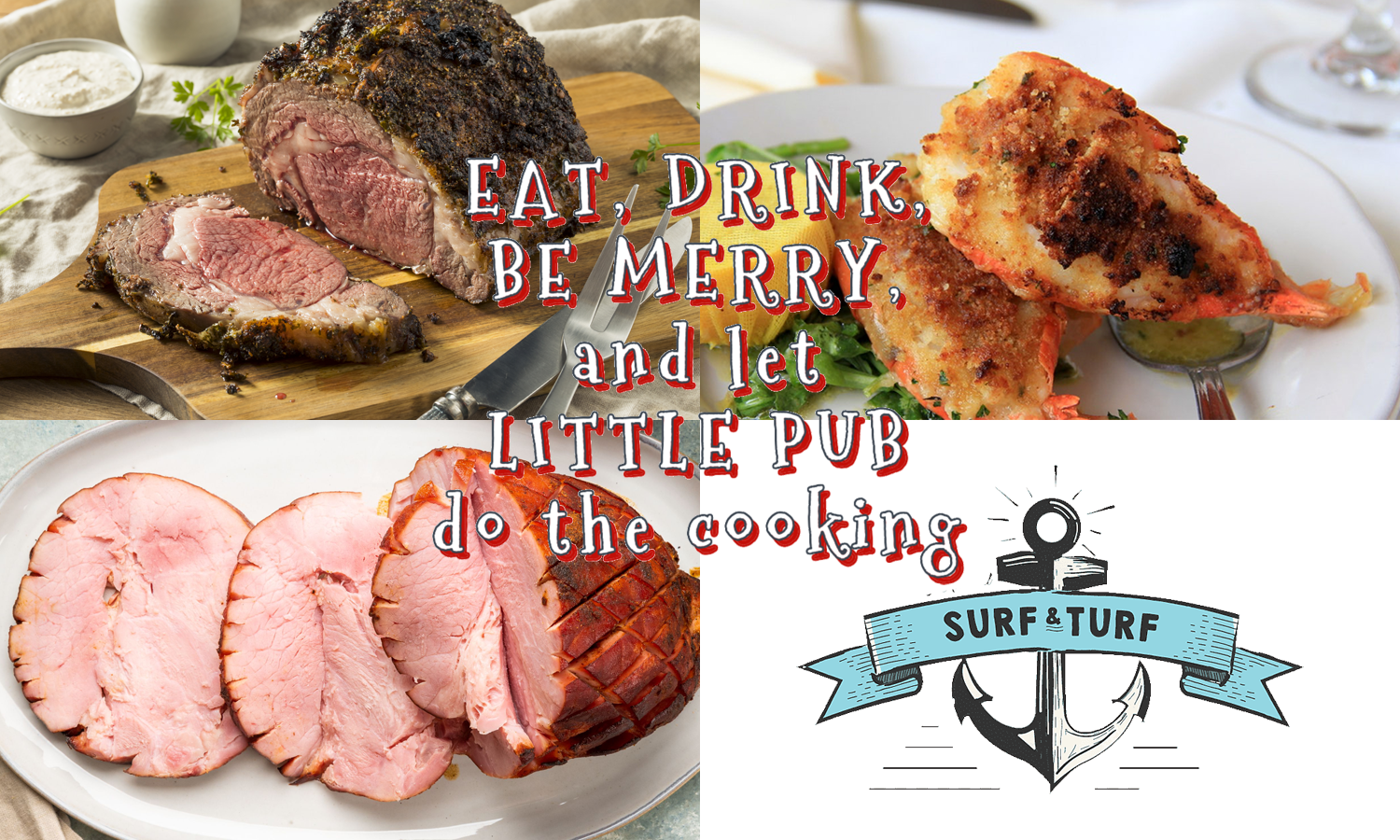 Staying home for the Holidays?
Ordering is now live for Little Pub's HolidayBox™! A complete, pre-cooked, 5 course, heat n' serve Holiday dinner in a box for 2 to 4 people that's absolutely perfect for the various Eves and Days of the Holiday season.
First, choose from Stuffed Shrimp, Rib Eye Beef Roast, Applewood Smoked Ham, Cider Brined Pork Tenderloin, or Surf and Turf as a main dish. Then, pick your sides: Buttermilk Biscuits or Artisanal Dinner Rolls, Creamy Mashed Potatoes or Roasted Sweet Potatoes, Bacon Roasted Brussel Sprouts or Decadent Creamed Spinach. Individual Chocolate Lava Cakes or Individual Red Velvet Cakes. Maybe add a bottle of champagne. Pick it up, pop it into the oven, set the table, and you are good to go.
Holiday boxes start at only $60 and are available for pre order now. Stop in, order online (during business hours) or email info@littlepub.com and we'll get back to you with info.
Two or Four person options available.
Cider Brined Pork Tenderloin $65/$115
Smoked Ham $65/$120
Stuffed Shrimp $80/$150
Prime Rib Roast $80/$150
Stuffed Shrimp and Rib Roast Surf + Turf $80/$150
Order By Monday December 19th and Pick up Friday December 23rd or Saturday December 24.
Order for New Year's Eve by Monday December 27th for Pick up Saturday December 31st.
Cider Brined Pork Tenderloin
Serves two people and includes: Cider Brined Pork Tenderloin, Choice of Au Poivre Pepper Sauce or Dijon Mustard Sauce, Choice of Potato, Choice of Vegetable, Choice of Bread, and Choice of Dessert $60
Serves four people and includes: Cider Brined Pork Tenderloin, Choice of Au Poivre Pepper Sauce or Dijon Mustard Sauce, Choice of Potato, Choice of Vegetable, aChoice of Bread, and Choice of Dessert $115
Smoked Ham
Serves two people and includes: Applewood Smoked Ham, Choice of Apricot Glaze or Dijon Mustard Sauce, Choice of Potato, Choice of Vegetable, Choice of Bread, and Choice of Dessert. $65
Serves four people and includes: Applewood Smoked Ham, Choice of Apricot Glaze or Dijon Mustard Sauce, Choice of Potato, Choice of Vegetable, Choice of Bread, and Choice of Dessert. $120
Prime Rib Eye Beef Roast
Serves two people and includes: Prime Rib Eye Roast, Choice of Au Poivre Pepper Sauce or Dijon Mustard Sauce, Choice of Potato, Choice of Vegetable, Choice of Bread, and Choice of Dessert. $80
Serves four people and includes: Prime Rib Eye Roast, Choice of Au Poivre Pepper Sauce or Dijon Mustard Sauce, Choice of Potato, Choice of Vegetable, Choice of Bread, and Choice of Dessert. $150
Stuffed Shrimp
Serves two people and includes: 8 Shrimp stuffed with lobster, crab, shrimp, and scallops, Choice of Potato, Choice of Vegetable, Choice of Bread, and Choice of Dessert. $80
Serves four people and includes: 16 Shrimp stuffed with lobster, crab, shrimp, and scallops, Choice of Potato, Choice of Vegetable, Choice of Bread, and Choice of Dessert. $150
Surf & Turf
Serves two people and includes: 4 Shrimp stuffed with lobster, crab, shrimp, and scallops, ¾ pound of medium rare Rib Eye Roast, Choice of Potato, Choice of Vegetable, Choice of Bread, and Choice of Dessert $80
Serves four people and includes: 8 Shrimp stuffed with lobster, crab, shrimp, and scallops, 1½ pounds of medium rare Rib Eye Roast, Choice of Potato, Choice of Vegetable, Choice of Bread, and Choice of Dessert $150