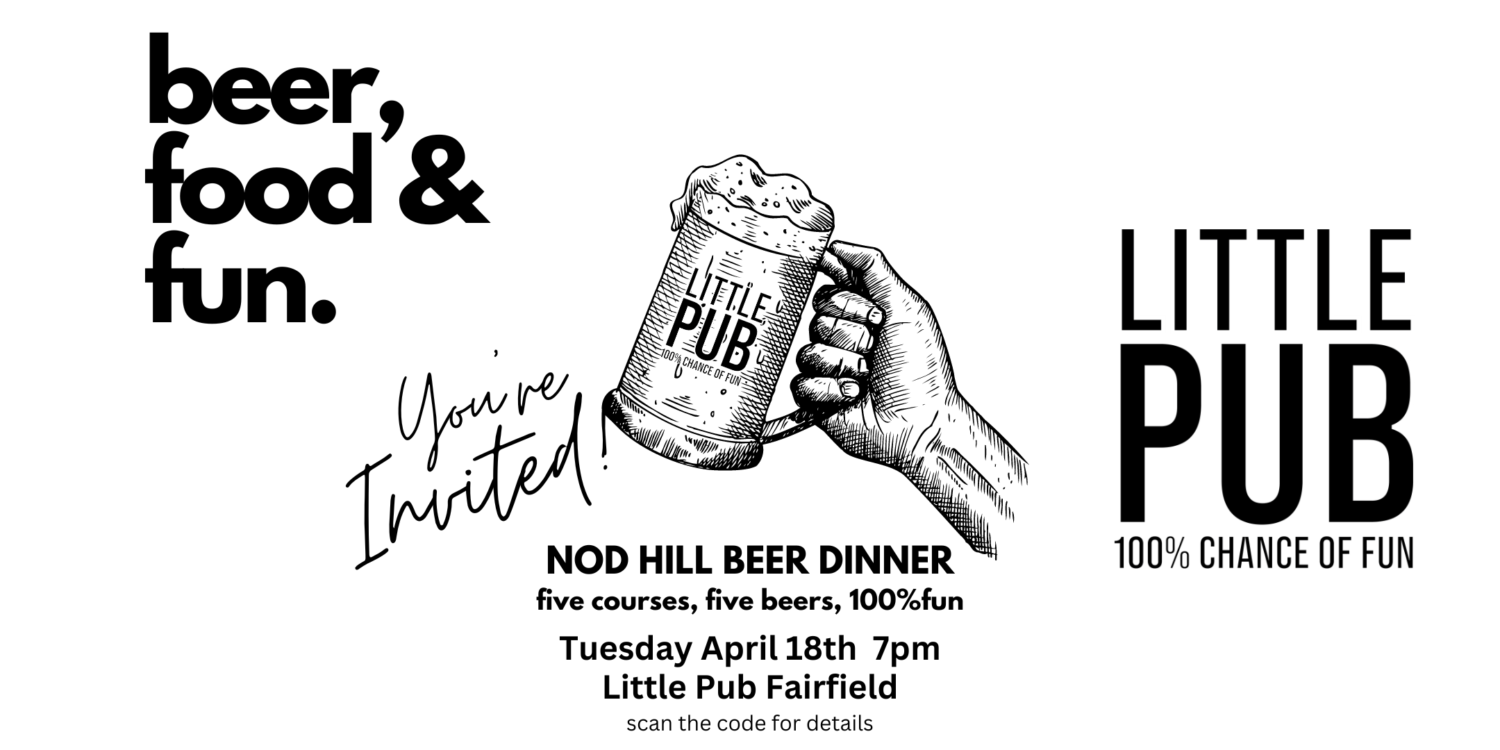 Join us Tuesday April 18th at Little Pub Fairfield for a five course Beer Dinner with Nod Hill Brewery.
Five course tasting menu paired with five Nod Hill selections only $75
menu
Amusing Bouche Chips
Crunchy Lime Salted Chicharrons paired with Sunrunner – Helles Lager
Carolina DipSticks®
House smoked shredded chicken and bbq sauce tucked inside crispy egg roll wrappers paired with Le Bûcheron – Biére Ambrée
Galveston Style Shrimps n' Rice
Cajun grilled shrimp over brown rice with roasted corn and black beans, topped with pico de gallo, guacamole and cilantro lime sour cream paired with Geobunny – New England IPA
Brisket Basket
Hand carved slabs of house smoked brisket served with a side of creamy mac n' cheese paired with Meadowsong – Oak-aged Farmhouse Ale
Voodoo Bread Pudding
Warm bread pudding with N'awlins style bourbon brown sugar sauce paired with Semiquaver – Bourbon Barrel-aged Imperial Oatmeal Stout
Five Courses, Five Beers, 100% Fun
Seating is Limited.
Advanced Reservations Required
Secure Your Tickets At The Link
Nod Hill Brewery at Little Pub Fairfield
location:
Little Pub Fairfield
2133 Black Rock Turnpike
Fairfield, CT 06825
203-612-4567
Email events@littlepub.com to be put on the interested list for early access to tickets for other beer dinners. There's no commitment but we'll hit that list first as details emerge and you'll get first crack at tickets.