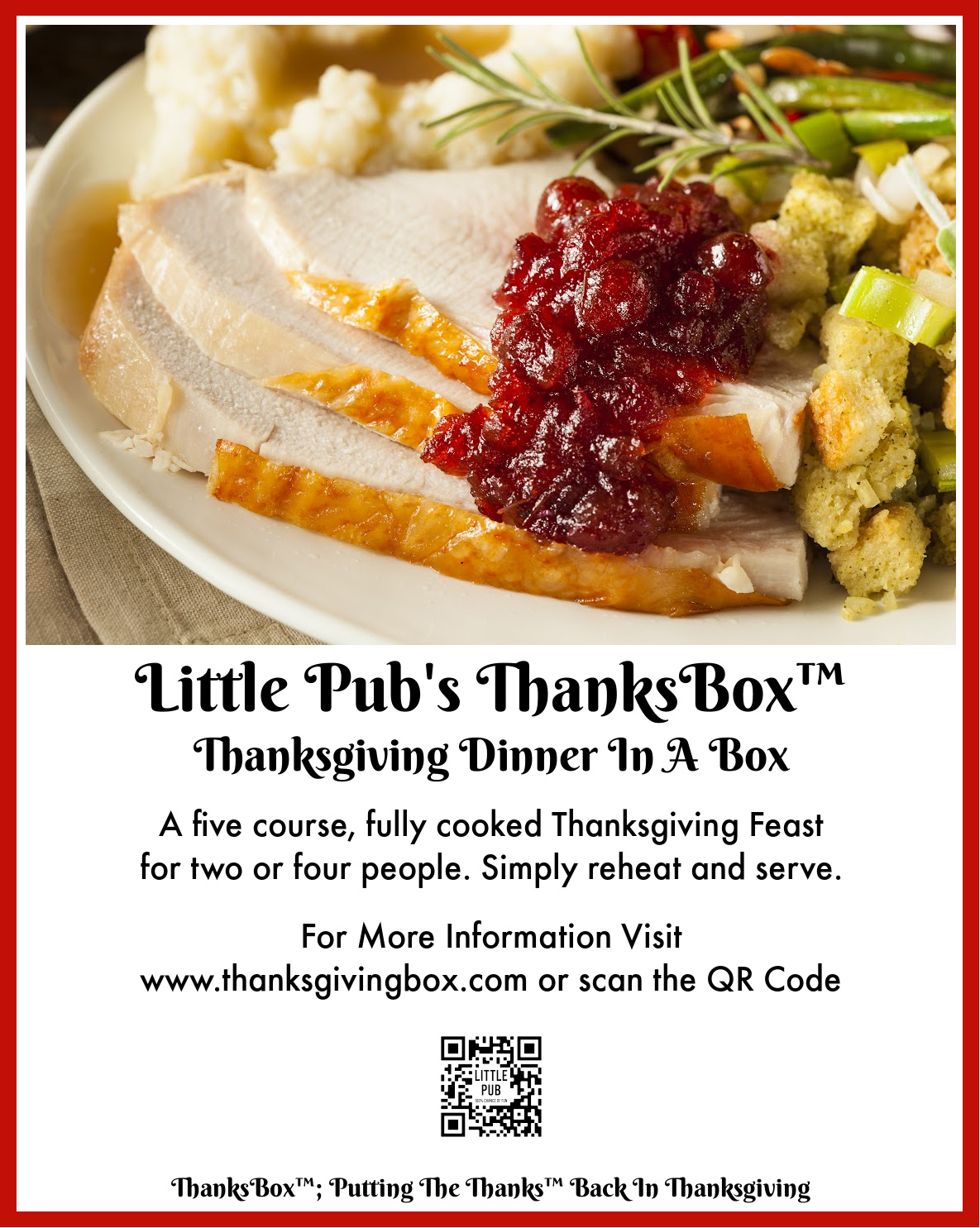 Little Pub ThanksBox™ Thanksgiving Dinner in a Box.
Each Little Pub ThanksBox™ includes a fully cooked, heat and serve Thanksgiving Dinner for two or four people. Choose from hand carved slabs of oven roasted turkey or smoked ham paired with your choice of potato, stuffing, vegetable, roll, and dessert. Then add additional sides from the a la carte menu.
Just Add Family (Or Friends if you prefer Friendsgiving).
4 person ThanksBox™ $135
2 person ThanksBox™ $70
Online Ordering is available during business hours.
Or just stop in to your local Little Pub
Place your order by Sunday November 20th for pick up Wednesday November 23rd *. Stop in to your local Little Pub, order online at Little Pub , or email us at [email protected]
*While supplies last. As you may be aware, or will find out, there is a national turkey shortage this fall.
Menu Below. Catering Options also available
ThanksBox™ 2022
ThanksBox™ for Four $135
ThanksBox™ For Two $70
Select one from each category:
Your Choice Of Main Dish:
Oven Roasted Turkey
Smoked Ham
Your Choice Of Potato:
Mashed Potato
Sweet Mashed
Roasted Maple Sweet
Your Choice Of Stuffing:
Cornbread & Sausage Stuffing
Classic Stuffing
Your Choice Of Vegetable:
Roasted Brussel Sprouts
Green Beans Aglio Olio
Your Choice Of Roll:
Artisanal Dinner Roll
Cornbread Muffins
Your Choice Of Dessert:
Cheesecake
Chocolate Lava Cake
A La Carte Catering Boxes ½ trays feed 12 people
Roasted Turkey –
Ham –
Mashed Potato –
Sweet Mashed –
Roasted Maple Sweet –
Cornbread & Sausage Stuffing –
Classic Stuffing –
Mac 'n' Cheese –
Roasted Brussel Sprouts –
Creamed Corn –
Green Beans Aglio Olio –
Stuffed Mushrooms –
Little Pub Salad w/ RV
House Salad w/ BV
Additional Add- ons
Shrimp Cocktail – 16 pieces
Spinach Artichoke Breadbowl
Charcuterie Board –
Qt Loaded Baked Potato Soup –
Qt Butternut Squash Soup –
Qt Gravy –
Qt Cranberry –
Rolls – 25 pieces –
Corn Muffins –
Lava Cakes ½ tray (12 pieces)
Pumpkin Cheesecake
Drinks
Red Sangria –
Fall Sangria –
Secret Thanksgiving Jingle