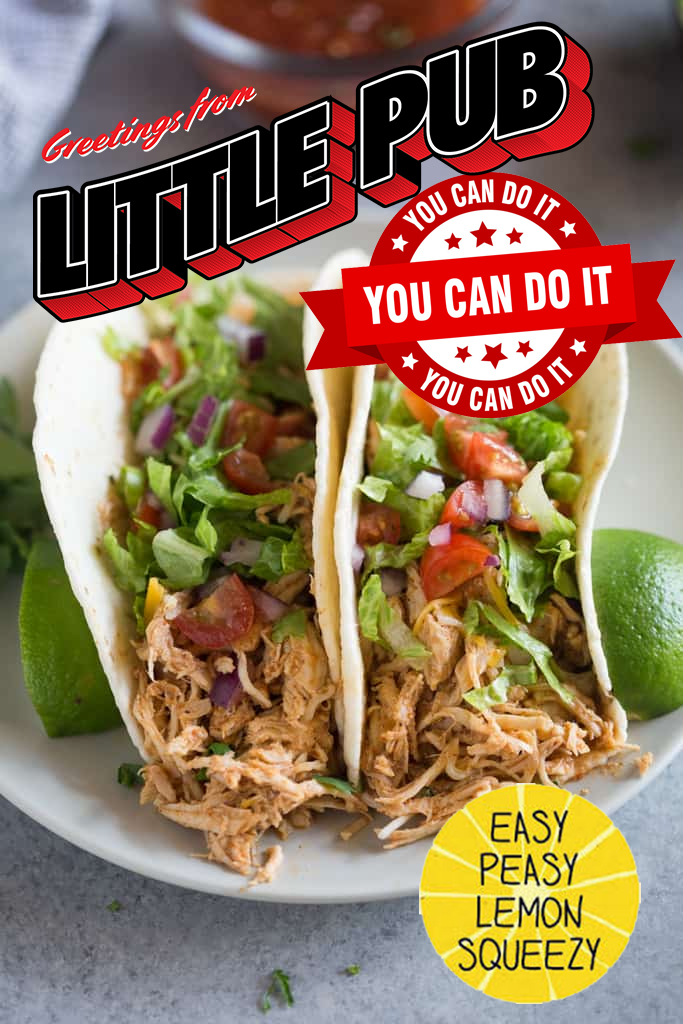 Instant Pot® Little Pub DinKit™ Chicken Tacos
Got an Instant Pot® and want to make your own Little Pub's Chicken Tacos? No stress, just grab the ingredients at the Little Pub market and whip it up Instant Pot Style™
Ingredients
Each Little Pub DinKit™ Includes
2 pounds Coleman Farms frozen skinless, boneless chicken breast halves
2 ounces Little Pub Top Secret® Taco Seasoning
1 pint of Little Pub Chunky Salsa
8oz Little Pub Guacamole
8oz Little Pub Pico
8oz Shredded Cheddar Jack
16 oz Shredded cabbage
10 flour or corn tortillas
Directions
One Step
Place chicken breasts in Instant Pot®. Sprinkle all sides with Little Pub Top Secret® Taco Seasoning. Pour pint of Little Pub Chunky Salsa on top. Place lid on the pot and lock in place. Select the Poultry or Manual High setting and set the timer for 15 minutes. Allow pressure to release naturally after the cooking time has ended or if you really are hungry manually release.
Two Step
While chicken is cooking wrap tortillas in foil and heat in oven at 300° for 10 minutes. Put the Guacamole, Cheese, and Cabbage into serving bowls or just leave in the deli containers. Up to you!
Three Step
Shred that chicken up with a fork and make tacos with it. Spread some guacamole over each tortilla, add 2-3 tablespoons chicken, sprinkle with cheese, add as much cabbage as you like, then top with pico. And eat!
Order online at LITTLEPUB DINKIT and don't forget to add a bottle of Red Sangria or White Sangria for optimal fun