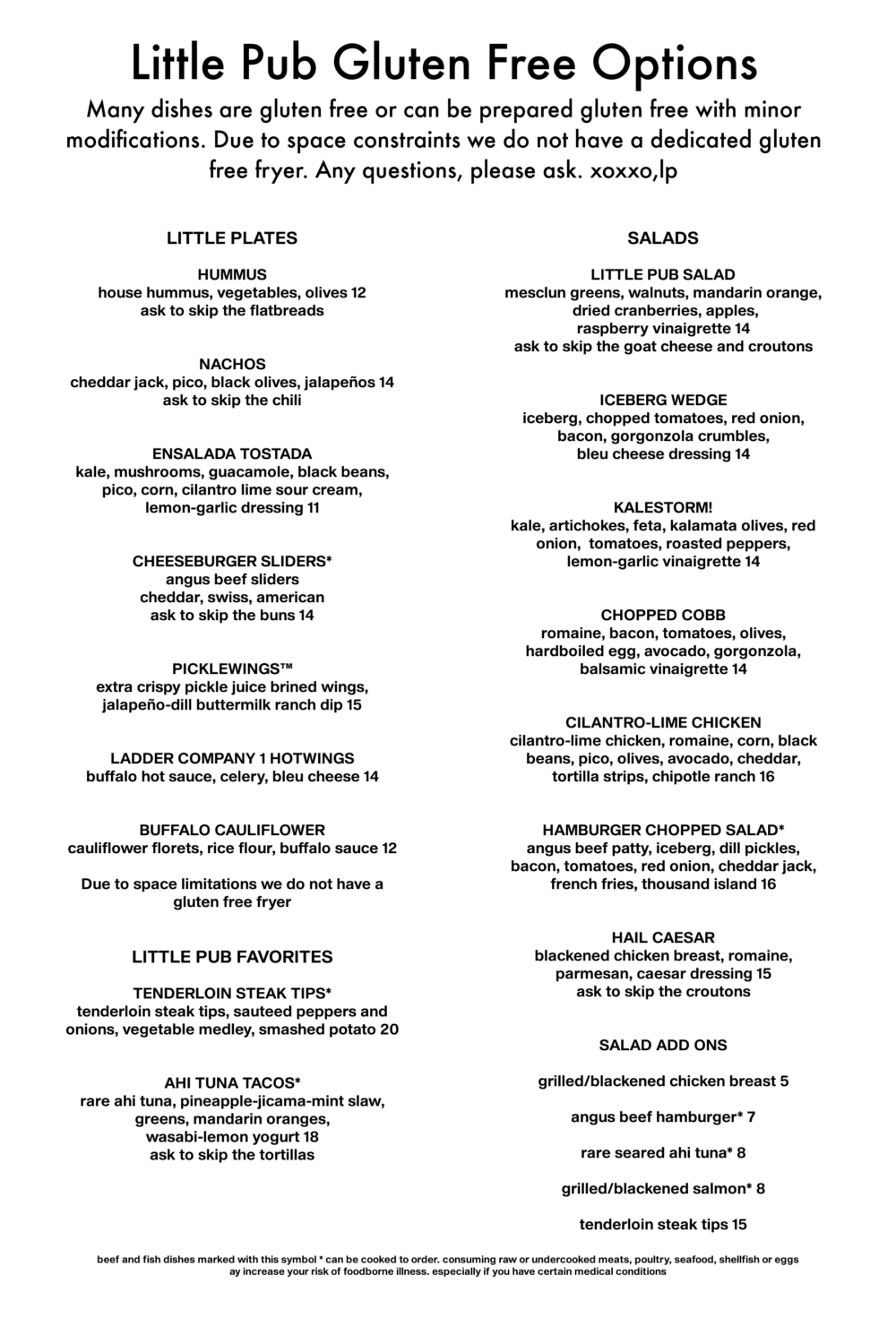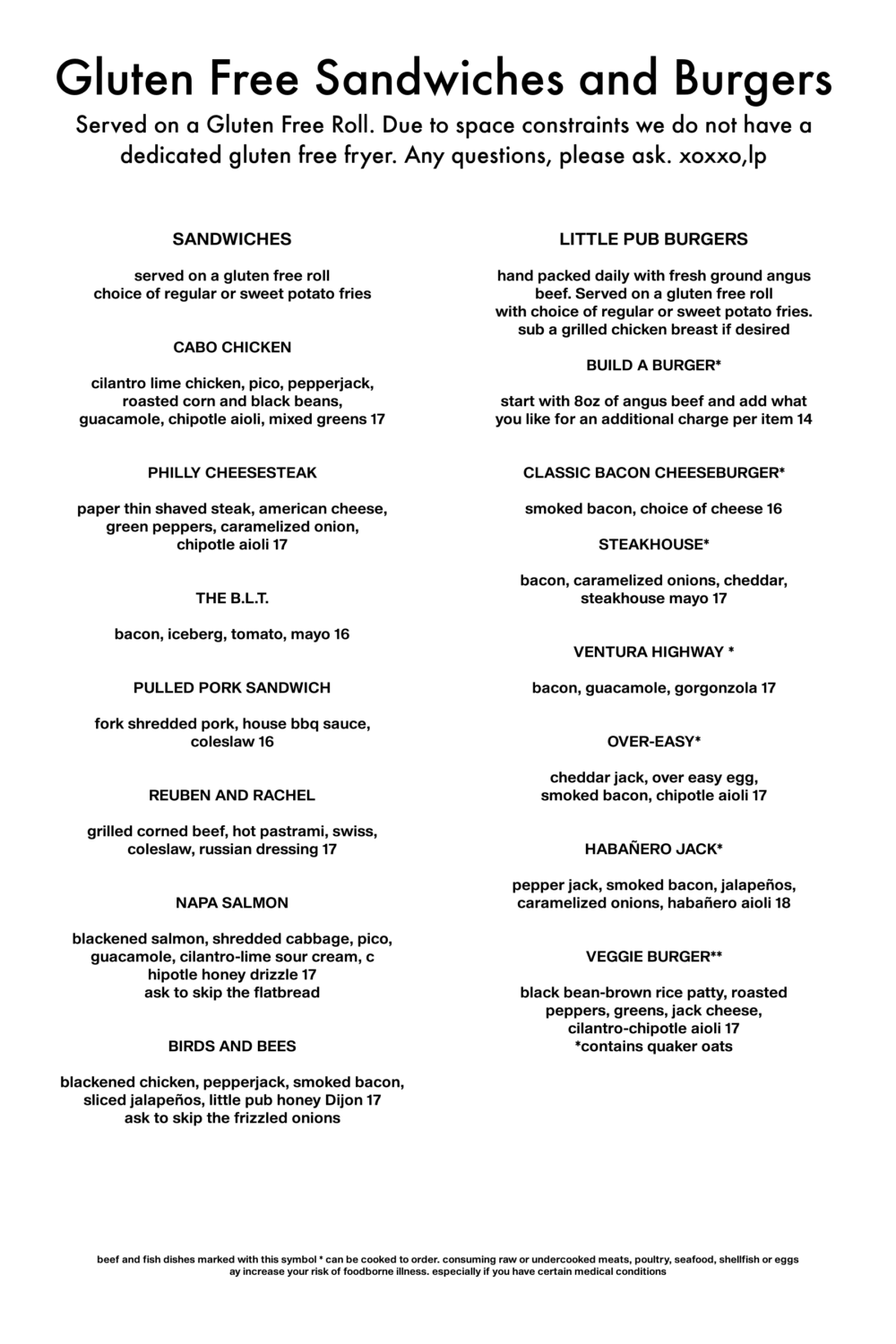 Little Pub Gluten Free Options
HUMMUS
house hummus, vegetables, olives 12
ask to skip the flatbreads
NACHOS
cheddar jack, pico, black olives, jalapeños 14
ask to skip the chili
ENSALADA TOSTADA
kale, mushrooms, guacamole, black beans,
pico, corn, cilantro lime sour cream,
lemon-garlic dressing 11
CHEESEBURGER SLIDERS*
angus beef sliders
cheddar, swiss, american
ask to skip the buns 14
PICKLEWINGS™
extra crispy pickle juice brined wings,
jalapeño-dill buttermilk ranch dip 15
LADDER COMPANY 1 HOTWINGS
buffalo hot sauce, celery, bleu cheese 14
BUFFALO CAULIFLOWER
cauliflower florets, rice flour, buffalo sauce 12
Due to space limitations we do not have a gluten free fryer
SALADS
LITTLE PUB SALAD
mesclun greens, walnuts, mandarin orange,
dried cranberries, apples, raspberry vinaigrette 14
ask to skip the goat cheese and croutons
ICEBERG WEDGE
iceberg, chopped tomatoes, red onion, bacon,
gorgonzola crumbles, bleu cheese dressing 14
KALESTORM!
kale, artichokes, feta, kalamata olives, red onion,
tomatoes, roasted peppers, lemon-garlic vinaigrette 14
CHOPPED COBB
romaine, bacon, tomatoes, olives, hardboiled egg,
avocado, gorgonzola, balsamic vinaigrette 14
CILANTRO-LIME CHICKEN
cilantro-lime chicken, romaine, corn, black beans, pico,
olives, avocado, cheddar, tortilla strips, chipotle ranch 16
HAMBURGER CHOPPED SALAD*
angus beef patty, iceberg, dill pickles, bacon, tomatoes,
red onion, cheddar jack, french fries, thousand island 16
HAIL CAESAR
blackened chicken breast, romaine,
parmesan, caesar dressing 15
ask to skip the croutons
SALAD ADD ONS
grilled/blackened chicken breast 5
angus beef hamburger* 7
rare seared ahi tuna* 8
grilled/blackened salmon* 8
tenderloin steak tips 15
SANDWICHES
served on a gluten free roll
choice of regular or sweet potato fries
CABO CHICKEN
cilantro lime chicken, pico, pepperjack,
roasted corn and black beans,
guacamole, chipotle aioli, mixed greens 17
PHILLY CHEESESTEAK
paper thin shaved steak, american cheese,
green peppers, caramelized onion, chipotle aioli 17
THE B.L.T.
bacon, iceberg, tomato, mayo 16
PULLED PORK SANDWICH
fork shredded pork, house bbq sauce, coleslaw 16
REUBEN AND RACHEL
grilled corned beef, hot pastrami, swiss,
coleslaw, russian dressing 17
NAPA SALMON
blackened salmon, shredded cabbage, pico, guacamole,
cilantro-lime sour cream, chipotle honey drizzle 17
ask to skip the flatbread
BIRDS AND BEES
blackened chicken, pepperjack, smoked bacon,
sliced jalapeños, little pub honey Dijon 17
ask to skip the frizzled onions
LITTLE PUB BURGERS
hand packed daily with fresh ground angus beef.
Served on a gluten free roll
with choice of regular or sweet potato fries.
BUILD A BURGER*
add what you like for an additional charge per item 14
STEAKHOUSE*
bacon, caramelized onions, cheddar,
steakhouse mayo 17
VENTURA HIGHWAY *
bacon, guacamole, gorgonzola 17
OVER-EASY*
cheddar jack, over easy egg, bacon,
chipotle aioli 17
HABAÑERO JACK*
pepper jack, smoked bacon, jalapeños,
caramelized onions, habañero aioli 18
VEGGIE BURGER**
black bean-brown rice patty, roasted peppers,
greens, jack cheese, cilantro-chipotle aioli 17
*contains quaker oats
LITTLE PUB FAVORITES
TENDERLOIN STEAK TIPS*
tenderloin steak tips, sauteed peppers and onions, vegetable medley, smashed potato 20
AHI TUNA TACOS*
rare ahi tuna, pineapple-jicama-mint slaw, greens,
mandarin oranges, wasabi-lemon yogurt 18
ask to skip the tortillas
beef and fish dishes marked with this symbol * can be cooked to order. consuming raw or undercooked meats, poultry, seafood, shellfish or eggs may increase your risk of foodborne illness. especially if you have certain medical conditions