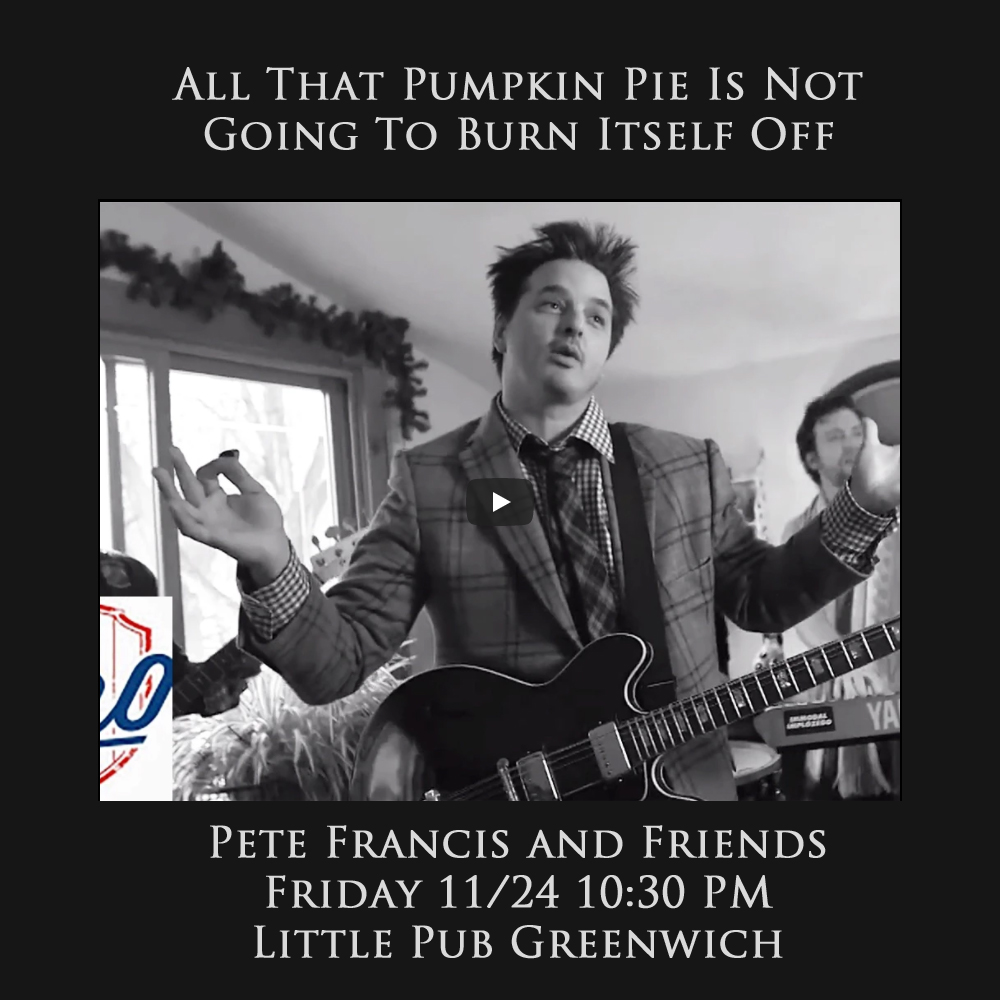 http://petefrancis.com/video.php
Pete Francis and friends at Little Pub Greenwich Friday November 24 2017.
As co-founder of Dispatch- a trio widely recognized as one of the biggest independent acts in rock history-singer/songwriter/multi-instrumentalist Pete Francis proved himself to be an artist of boundless creativity and joyful versatility. Nearly two decades after the band first broke onto the New England scene, Francis continues to create boldly innovative music through his work as a solo musician, record producer, and member of the still majorly crowd-drawing Dispatch.
Growing up in Riverside, Connecticut, Francis first picked up guitar at age 13 and quickly discovered his undeniable passion for songwriting. At 19, while studying at Middlebury College in Vermont, he joined forces with classmates Brad Corrigan and Chad Stokes to form Dispatch and start honing the group's earthy yet groove-laced brand of alternative rock. Soon after releasing their 1996 debut Silent Steeples on their own Bomber Records label, Dispatch steadily gained a colossal following across the globe, thanks largely to word-of-mouth from diehard fans. By 2004, with four full-length albums and countless tours under their belt, Dispatch decided to go on hiatus and part ways indefinitely. But before moving on, the trio put on a massively attended farewell show at the Hatch Shell in Boston, luring 110,000 concert-goers and enticing fans from as far away as Australia, Europe, and South America.
Several years before the start Dispatch's extended hiatus, Francis made his debut as a solo artist with the release of 2001's So They Say. Over the next 13 years he'd go on to turn out six more solo records, each further revealing his adventurously creative spirit and devotion to intricate songcraft. As heard of his most recent solo effort-2013's fantastically psychedelia-tinged Immodal Implozego-Francis's solo material endlessly blurs musical boundaries while delivering indelible melodies and sharply poetic lyrics. In the midst of cultivating that genre-warping solo career, Francis joined the resurrected Dispatch in 2007 for a series of sold-out shows at New York City's Madison Square Garden. That three-night stint was captured in the double live album Zimbabwe, a 2007 release whose title references Dispatch's donating the bulk of ticket-sale proceeds to various Zimbabwean charities. Several years later, in 2011, the band set out on a sold-out national tour, which included three shows each at Colorado's Red Rocks Amphitheatre and Boston's TD Garden.
As Dispatch continues to tour and release new material (including the 2012 full-length Circles Around the Sun), Francis divides his time between the band and his own musical pursuits. In 2013, for instance, he constructed and began operating Dragon Crest Recording Studio at his home in Old Greenwich, Connecticut. The studio served as the main recording site for Volume 1, the debut album from his latest musical venture, Dragon Crest Collective. In bringing Volume 1 to life, Francis teamed up with local musicians to build a high-energy, party-ready but strikingly thoughtful hybrid of lo-fi hip-hop and groove-heavy rock. Working primarily out of Dragon Crest Recording Studio, Francis has also produced material for a host of acclaimed artists, including jazz pianist Paul Tillotson and jazz organist Brian Charette.